Homes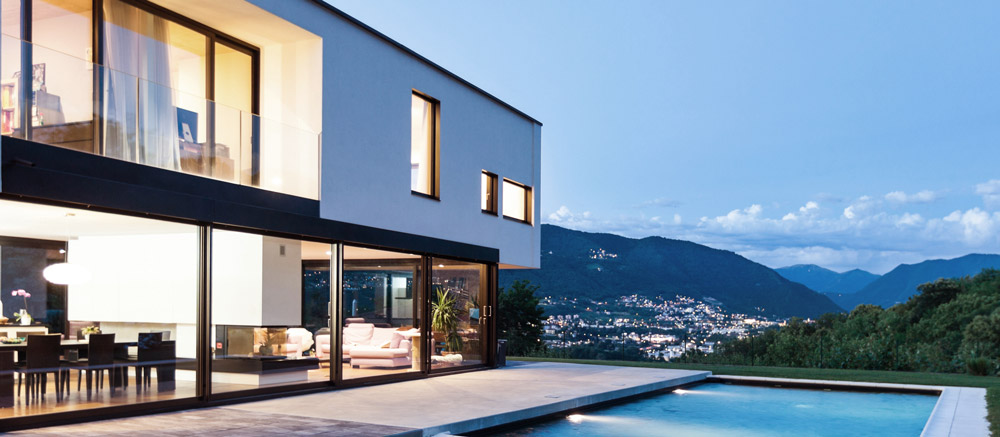 Wouldn't it be nice if your WiFi could work anywhere in your home?
As more and more wireless devices are being developed, homeowners and renters are faced with the need for WiFi networks which can provide their home with robust, consistent, automatic connection to wireless devices such as phones, tablets, laptops, and SMART home devices.
Zuerisee Connect designs, installs and supports professional-grade WiFi networks for your home which are installed discretely and without visible wires or antennas – allowing the beauty of your home to shine through.
Smart Home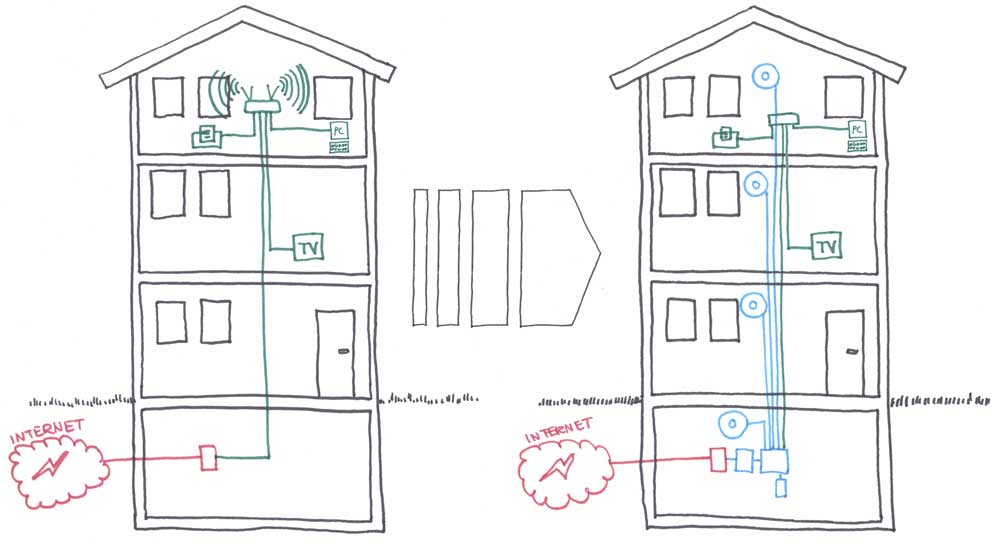 A typical transformation of a simple network in a private home. To the left is shown the situation before the transformation, when this house only had WiFi coverage on the top floor. To the right is shown how Zuerisee Connect has installed the blue network equipment with robust, fast and safe WiFi on every floor of the house.
Installation example with 4 access points, network center, planning, configuration and installation.
Reliable WiFi anywhere in your home makes the foundation for WiFi based lights, baby alarms, garden watering, cameras, door bells etc.
Multiple Devices – Multiple Users – Automatic Connection – Seamless Signal
Our WiFi networks are designed to provide strong, robust WiFi signal across your home without 'dark spots'. Our networks provide access strong enough for the entire family to be streaming on their own devices.
Secure guest WiFi
Offer you guests WiFi that works without compromising security.
Security of your digital assets has never been more important and with a Zuerisee Connect network, your digital assets remain unexposed to guests.
Unlike most consumer grade solutions, our guest networks are always completely separated from your primary network.
This way you can offer internet to your kid's friends without giving them access to all your smart home devices and home office appliances.
Kids WiFi vouchers
An easy solution to limit access to WiFi for young children. Zuerisee Connect offers an easy-to-manage system for creating WiFi Vouchers for Children.
For parents who would like an easy way to limit their child's access to WiFi – a WiFi Voucher System can be installed – offering you the ability to generate Vouchers which provide children with time limited access to your WiFi network.
Work from home
Wouldn't it be nice with a WiFi reliable enough to properly support VPN connections from your laptop? Many of our clients are bound to use cabled connections when they work from home because their consumer WiFi is not reliable enough for the VPN connection provided by their employer.
With WiFi from Zuerisee Connect you will be able to work over VPN from anywhere in your house or apartment.